Sandrine P.
Quality products with real reproduced canvases. Magnificent, the finishes are neat. I can't wait to receive my next gift !!!
Matthieu L.
Your products are flawless and of very high quality whether in terms of material, finishes or elegant designs, not to mention the divinely chosen colors.
The service around is just like the product, that is to say perfect!
I can only wish a long life at the Maison Fétiche in order to have the pleasure of seeing your new creations.
Gaetane G.
Maison Fétiche scarves are gorgeous. We can't wait to be deconfined so that we can wear them again! Perfect gift idea to please the little ones!
Marie-Françoise G. – Wallpaper customer
I thank you very sincerely for this efficient and beautiful collaboration and while waiting for the next opportunity, I send you my cordial greetings.
Marie Caroline T.
I am delighted with my Maison Fétiche product. It corresponds exactly to the idea that I had of it. These are magnificent products which illustrate the creativity of the artist.
Claude S.
Satisfied of course, as much for the quality of the product itself as for the extraordinary effect it produces when offered. I hope it changed the lives of those who benefited from it …. Seeing them wear it often, I think so !!
Sarah M. – Interior Designer
I am very happy with the result, my clients are in heaven.
Morgane J.
A poetic refinement embodying French chic. Very high quality products at an affordable price for luxury products. Like what, this is possible.
Véronique L.
My scarf is unanimous! Superb colors and patterns! So beautiful and so comfortable to wear! Models all more beautiful than the others and Made in France what is more! Well done Maison Fétiche!
What are the steps to create a silk twill scarf?
The creation of a silk twill square or any other fashion accessories, we work as a team. On a regular basis, we select a subject to be extracted from a painting and then the team of computer graphic designers proceeds with the digitization. Then, the team goes through the long phase of cleaning, clipping and color retouching. Once the raw work is cleaned, we move to the real creation, we are inspired by the subject of departure to find patterns, baroque or bohemian inspirations, floral prints or leopard all is possible if the visual is consistent and that the printed colors are judicious. Very often it is necessary to make several proposals on the same subject, which allows the creation to evolve, adding stripes, polka dot prints or geometric shapes sometimes ethnic, it is a long quest to find the balance of colors and shapes to arrive at a unique and recognizable scarf. We always make sure that each silk twill scarf bears our Maison Fétiche label, it's our trademark.
Why did you choose silk?
For me, I find that silk like cashmere or pashmine conveys a singular image always present in our society. It is the mythical silk road, made of caravans crossing the Gobi desert or mysterious luxuriant cities, it is all this part of exoticism which attracted me at first. Then through learning, came the appreciation of spinning techniques, the complexity of assembling threads to obtain a heavy silk twill of superior quality. It is the artisanal application to sublimate this material with unequalled natural properties (compared to synthetic materials from petroleum such as polyester) that definitely convinced me to work on this support.
And finally, as is often the case, it comes from my mom, to see her wearing this essential accessory of her wardrobe, this timeless classy object, which has been passed down from generation to generation like a precious family jewel.
What should I do to extend the life of my Maison Fétiche scarf?
Buying high-end silk twill squares like Maison Fétiche's self-made squares is a process that often creates a more special attachment. As such, we always like to keep our premium silk twill squares as long as possible and in the best condition. To help you achieve this, we offer you some simple tips to apply.
WEAR IT
Avoid direct contact of the scarf with chemical products such as perfume, deodorant…ÉAvoid spraying the perfume directly on the silk fabric, the basic elements (alcohol, essential oil…) of the perfume can rub off the inks of the scarf. It is best to tie the scarf later, once the perfume is applied and dry. ÉAlso avoid fatty materials, they can permanently stain the silk twill.
WASH IT
Once you have found the Maison Fétiche silk twill square of your dreams, comes the very delicate moment of washing. To avoid damaging the silk, it is necessary to take certain precautions.
First, follow the labeling. Each Maison Fétiche silk twil square has a label printed on it with the washing symbols to be respected. These symbols are subject to ISO 3758 standardization by the International Organization for Standardization.
Avoid using a washing machine and wash your silk squares by hand. Although the washing machine is both convenient and fast, it is recommended to always wash your silk twill squares by hand. The drum of the machine can permanently damage the fibers and sometimes decrease their elasticity.
It is best to wash your silk twill squares separately.
Use the right detergent. What we expect from a detergent is that it is able to remove stains without damaging the overall condition of the scarf and to make the colors shine. Of course, you should never use a detergent that is too aggressive.
It is necessary to use the recommended quantity of the cleaning product according to the state of dirt of the silk twill squares. This depends on the type of detergent. Refer to the information printed on the label of the detergent container.
Wash your squares at the right temperature. For silk twill squares with bright colors, do not exceed a temperature of 30°C. For dark silk twill squares that fade easily, a temperature that is too hot will cause the colors to bleed more and therefore become less vivid over time. If your silk twill squares are very dirty, it is better to increase the washing time than to increase the water temperature
Do not use a tumble dryer! To dry, lay your scarf flat on a horizontal drying rack and let it air dry. If possible, consider turning it over from time to time.
DE-WRINKLE
Always remember to iron your silk accessories when they are still slightly damp and remember to turn them inside out. Make sure the iron is on its lowest setting Be sure to always let the iron glide over the fabric to avoid burning the fibers.
Our pro tip: the pattemouille
Laundry professionals usually use a pattemouille, which is a piece of damp cloth used during ironing to avoid iron marks and to shine the fabric.
Avant de commencer, retournez votre foulard à l'envers et programmez votre fer à bonne température.

Run your pattemouille under water and wring it out well so as not to wet the garment to be ironed.

Place your pattemouille on the square.

Iron your scarf with the pattemouille, letting the steam escape.

Remove the pattemouille from the scarf and let it cool for a few seconds.
RANGE IT
Use the Maison Fétiche box provided for this purpose. Beyond its elegant and sober design, the Maison Fétiche packaging is totally opaque. The inks used to print the silk squares are UV sensitive. In order to preserve the brilliance of the colors we advise you to systematically store your accessory in its box stored in a dry place away from the light.
Do you offer exclusive models of luxury scarves?
Producing short series allows us to produce more variety and to offer you exclusive series for you or for our distribution partners.
Thus, we offer, in collaboration, models in retail stores that you will not see in our online store and vice versa.
We are able to design unique models for particular establishments: like for a hotel seeking to offer its clientele an unforgettable welcome gift, for a chain of boutiques wishing to stand out through exclusivity, but also for a company wishing to offer its exceptional clientele a memorable present.
Because a fetish house always starts with a creation
Discover the original works of Caroline Basuyau
Maison Fétiche always starts with an artistic creation, discover the original works of Caroline Basuyau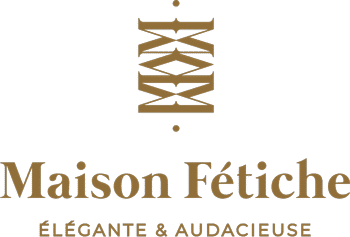 Discover The
artistic of
Caroline Basuyau