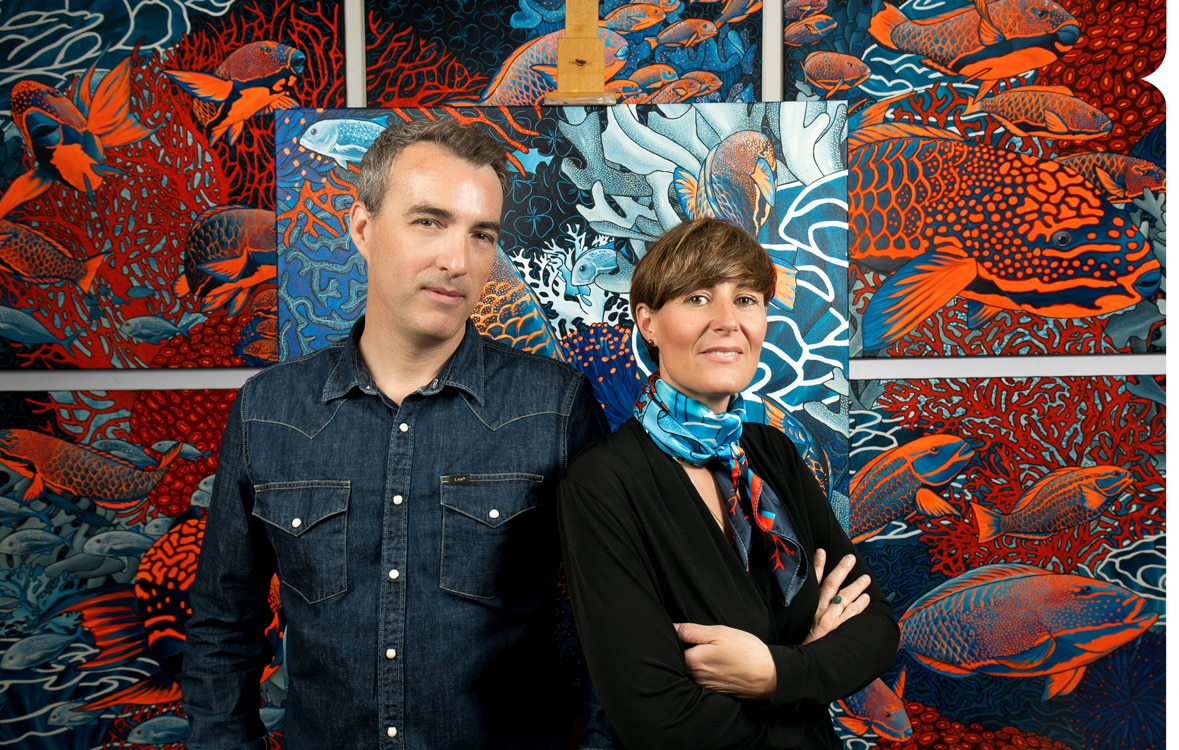 Artist painter for more than twenty years, Caroline Basuyau is the founder of the Maison Fétiche brand, she lives in France with her family in the Gulf of Morbihan and is inspired by her travels to the ends of the earth to feed her creations. A colourist above all, she likes to create shimmering natural worlds, sometimes dreamlike when she portrays majestic animals emerging from multicoloured imaginary landscapes or sublime underwater environments. Caroline's artistic perambulations have allowed her to acquire a solid and very personal technique resulting from an atypical initial training in stained glass creation and engraving. Discover his works on www.caroline-basuyau.com
Through numerous exhibitions and renowned international fairs, it has built up an obvious reputation in just a few years. Very quickly, his visceral need to explore new territories led him to imagine his works on media other than linen canvas. At the same time, by exchanging with her audience, she perceives a sincere demand. What could be better than a precious and natural fabric to sublimate her creations, it is obviously silk that has imposed itself on her.
Her husband, Johann David, joined her in the adventure as Director of Marketing and Communication. Complementary, they have joined forces to structure the activity to meet their expectations. By combining their skills, Maison Fétiche pays tribute to nature and the respect it deserves by transposing their passion and ideas into a collection of lucky accessories, designed for two.
OUR IDENTITY
Caroline Basuyau has decided to bring together all her fashion accessory creations under one obvious entity: Maison Fétiche. Because our house is protective, a solid foundation with well-established historical foundations. "Fetish", the most evocative of words if ever there was one to define Caroline's artistic production, all her work is nothing more than the creation of fetishes in the noblest sense of the term: "A cultural object to which supernatural properties are attributed that are beneficial for its owner. Animal, real or represented, that is supposed to bring good luck and kindness to the one who owns it."
To represent La Maison Fétiche, a Tiki, has naturally imposed itself and it is no coincidence since it is in Polynesia, in 2011, that everything really started for the artist.
In Polynesian culture, the tiki is very important, it symbolizes the half-human, half-godly ancestor who was the first man. According to legend, it was this mythical figure who gave birth to humans. The tiki is a sculpture that serves as a protection for families, in the "fenua" (country), it is commonly placed in the garden or at the entrance of the "fare" (house) to prevent evil spirits from entering. It is for this purpose that the "tiki" Maison Fétiche has been designed, so that it becomes the protector of your "interior house".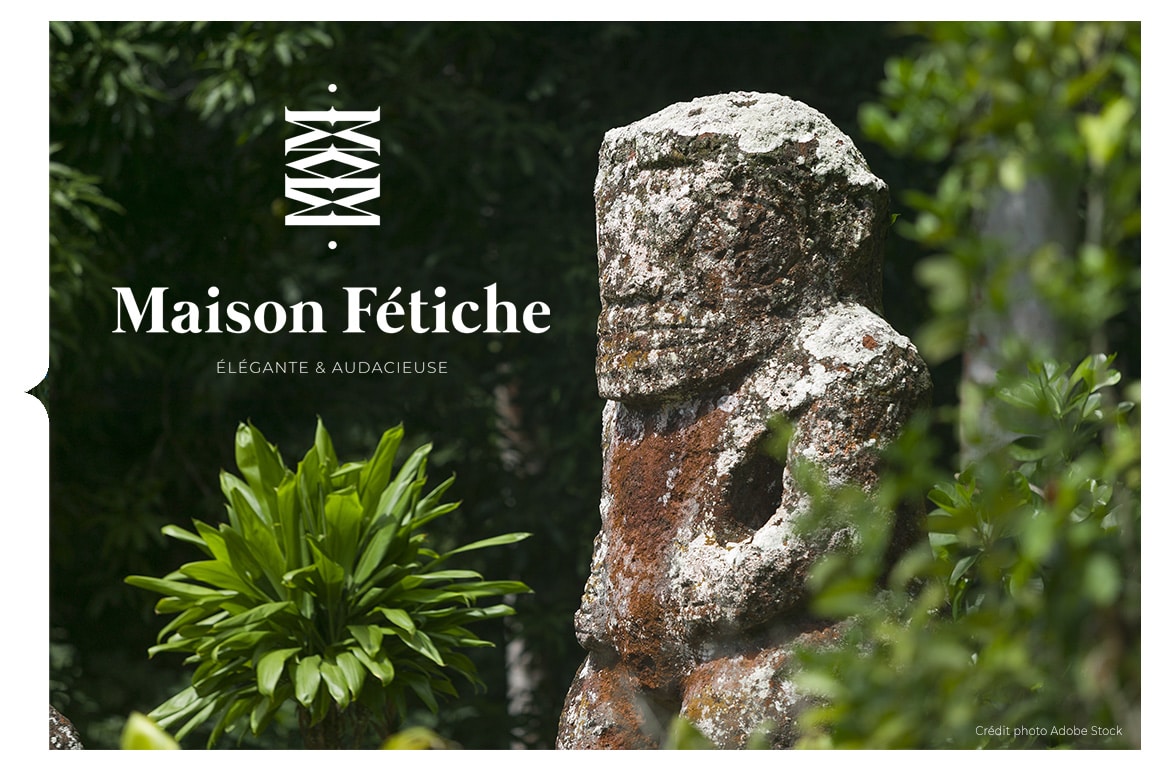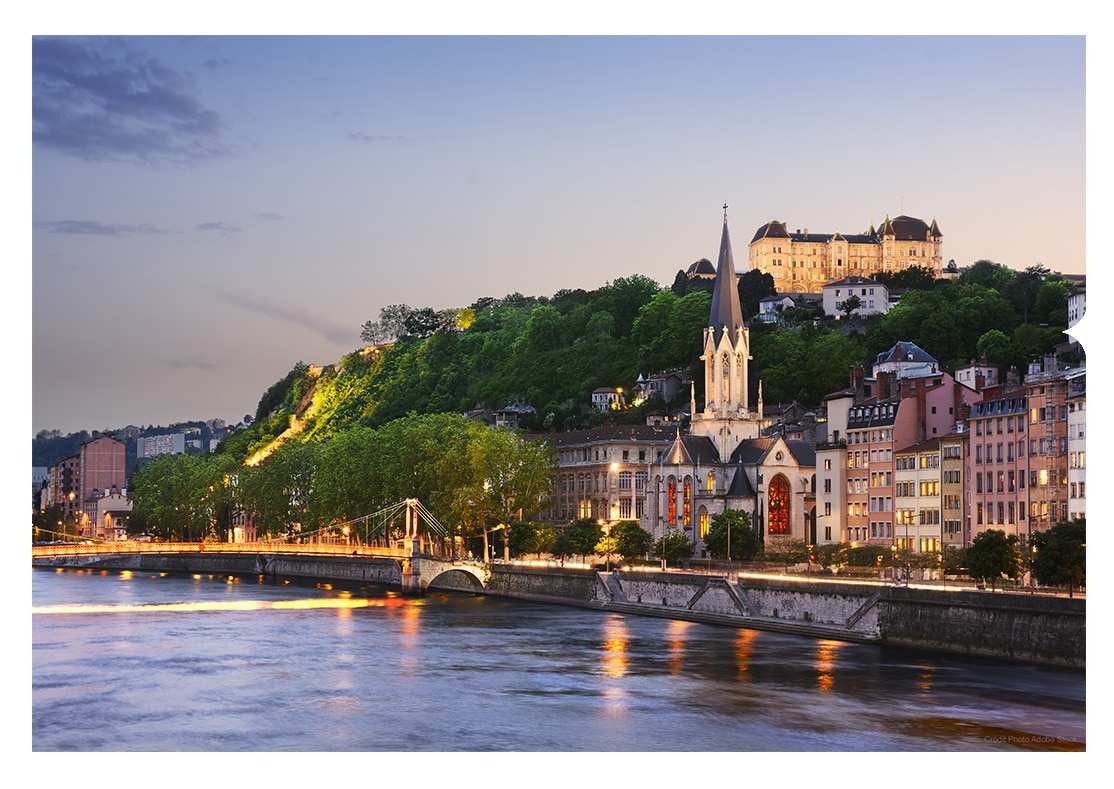 EXCEPTIONAL ACCESSORIES
Maison Fétiche offers you a range of exceptional accessories for your everyday life: silk twill scarves, silk ribbons and bracelets but also a whole universe around jewellery. Let yourself be transported, embrace the artist's timeless and magical universe.
OUR PLAYGROUND
If our graphic creations come to life in Brittany, it is as a matter of course that we have turned to Lyon for our scarf productions. The silk capital has logically established itself in our quest for excellence. Our apprenticeship of silk, a delicate and precious material and its work was done with the best craftsmen printers and top-of-the-range garment makers. Every day, the craftsmanship of excellence is limitless, and its best representatives bring our creations to life and open the doors of the possible. Maison Fétiche makes it a point of honour to imagine accessories that are naturally consistent with the territory that produces them, which is why we are proud to label most of our products with "Made in France".
FROM THE CANVAS TO THE PRODUCT
Every day the artist creates new works, through which we create new and exclusive designs for our silk scarves. The inspiration is the result of Caroline Basuyau's vision of the nature around us. It is more than a simple reproduction of a work on the silk twill but a true rereading, an interpretation of the work with a whole work of colors, patterns, symmetry often tinged with exoticism brought with great care. Each design is designed by our studio. Caroline Basuyau's style combined with the work of her team of designers set the tone for creating an elegant and audacious universe.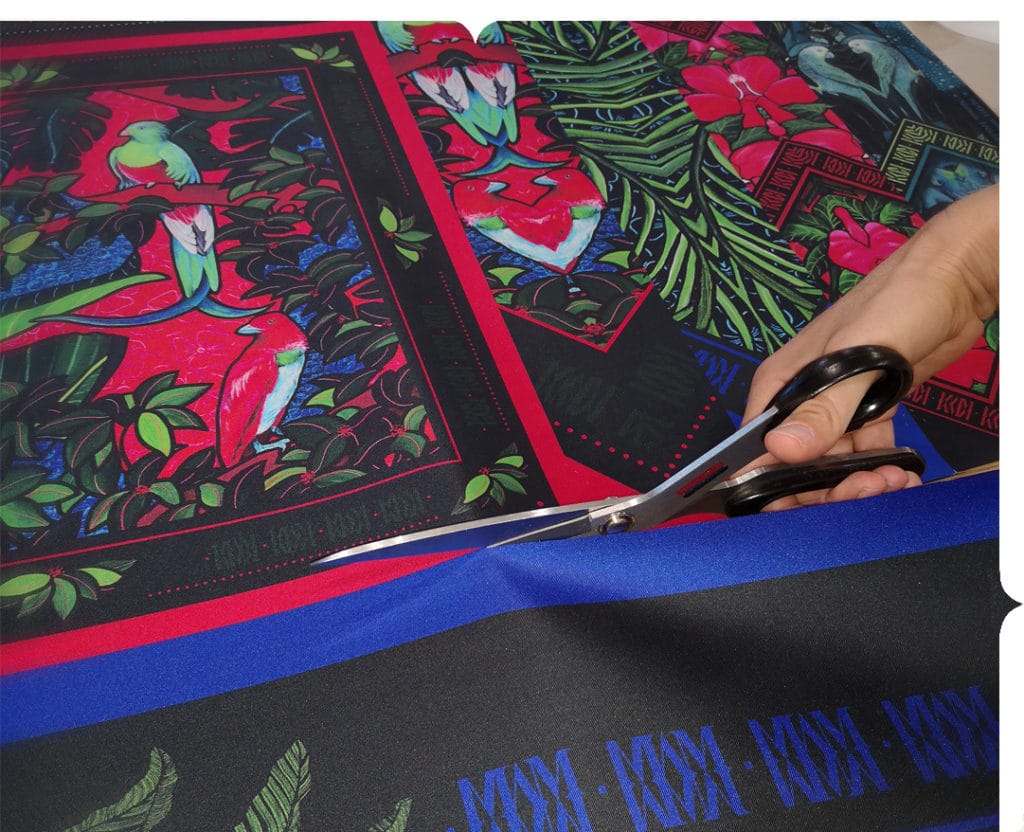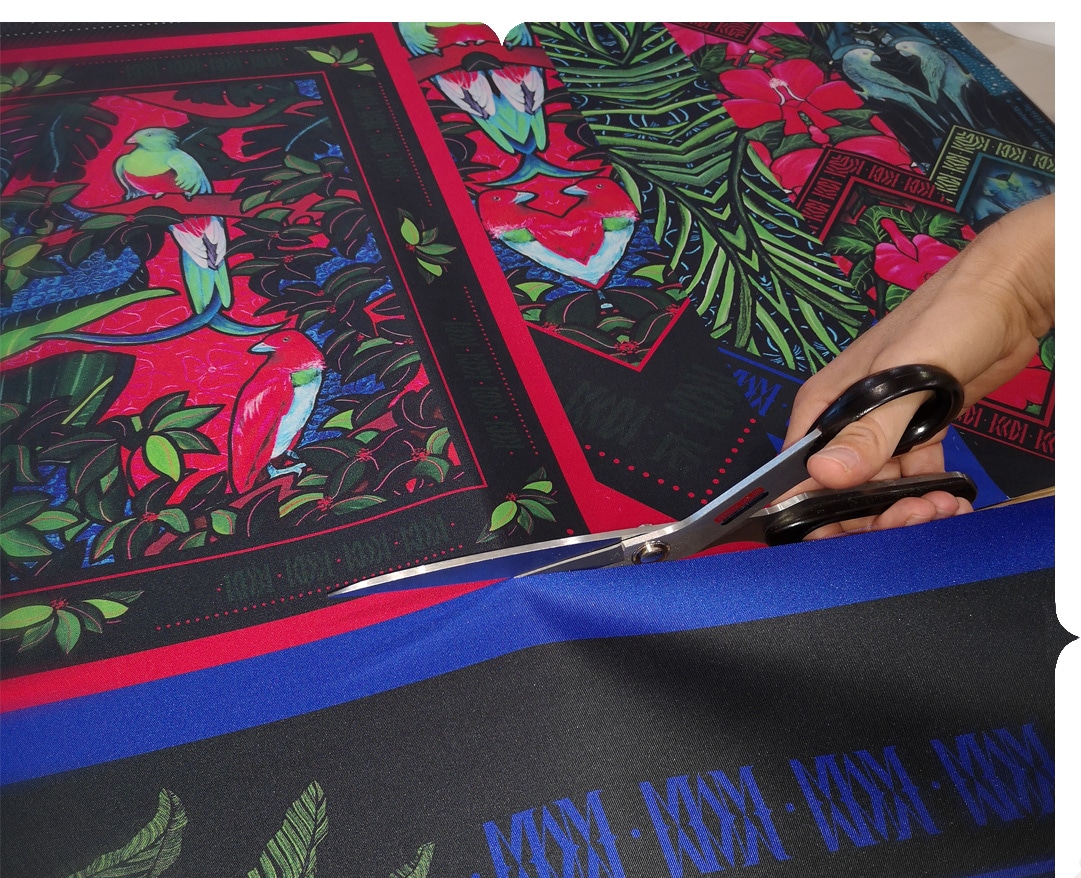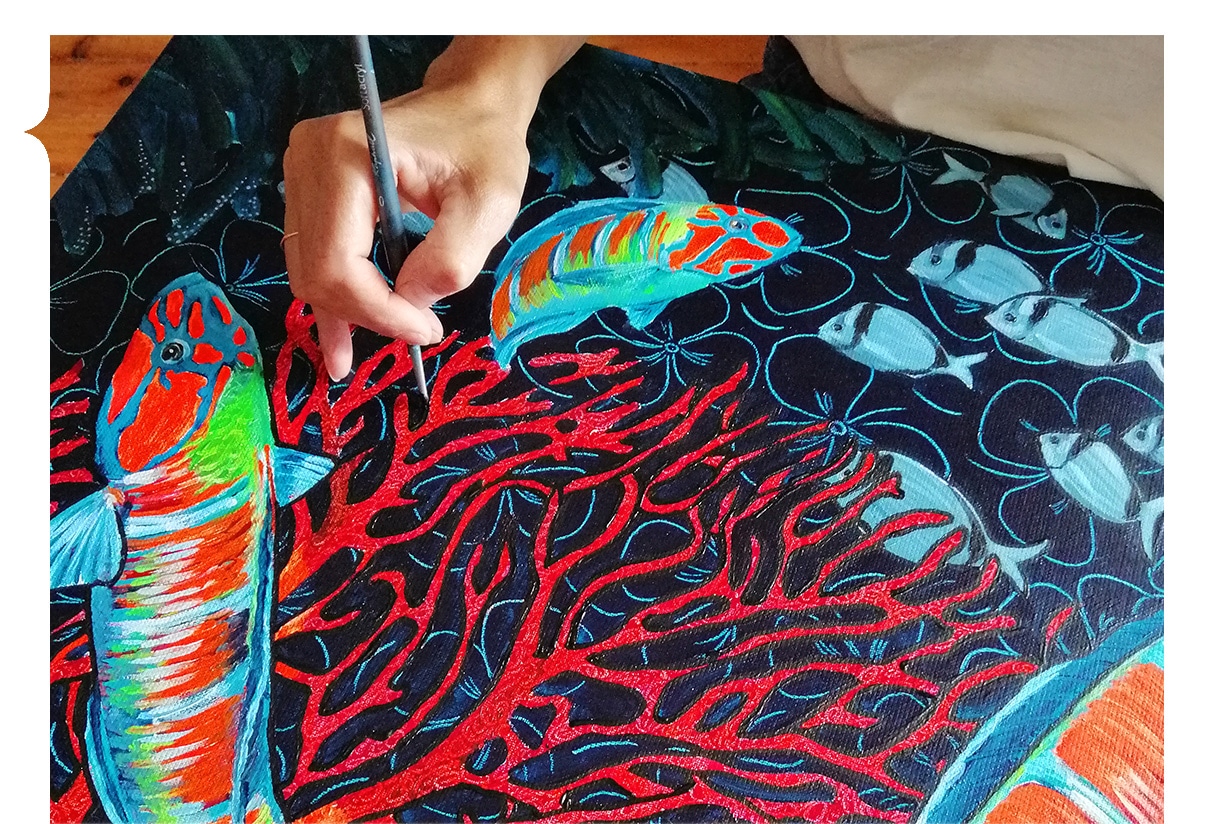 OUR TRADEMARK : EXCLUSIVITY
We have come to an agreement with craftsmen who make small series, companies on a human scale that allow a follow-up and a reactivity guaranteeing quality and manufacturing of top-of-the-range quality. Far from the brands cultivating overproduction, we make it possible to produce exclusive accessories. We publish short series. Each buyer of our products can thus appreciate the excellence provided by our workshops.